In just 7 weeks time, both me and Jayda Fransen will be on trial in Belfast for 'Hate Speech' - or what ordinary Britons would call 'criticising Islam'.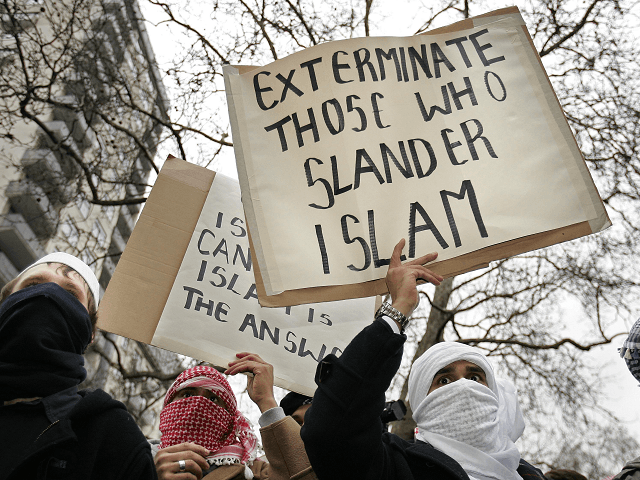 But first, let me explain why the establishment is terrified of Britain First:
Before Jayda and I went to prison in March, a well-oiled government plot to finally destroy our movement was in full swing.
There were three major attacks on our movement that - when combined – were designed to sink Britain First once and for all.
The first was the unlawful de-registration of Britain First as a political party – do you know of any other political party that has been arbitrarily de-registered and not allowed to stand in elections?
The second was a stitch-up to send both me and Jayda to prison for a long time on trumped-up Mickey Mouse charges, more specifically, exposing a gang of Afghan child rapists in Ramsgate.
The third was a government deal with Facebook to take-down our fan pages – as boasted of in the House of Commons - cutting off almost 3 million of our supporters, globally.
De-registering Britain First as a political party, the loss of our online platforms, being cut off from millions of our supporters and the imprisonment of our leaders, was supposed to be the end of Britain First.
Take this for example, from Wikipedia:
'Matthew Collins, head of research for the anti-fascist group Hope Not Hate, suggested in The Guardian that the [Facebook] ban, combined with the imprisonment of the party's leaders, has the potential to lead to the collapse of Britain First, which has depended heavily on online activism.'
When I was in prison, I had a long time to think about this situation, day after day, month after month.
I vowed in prison that I would not allow our movement to be destroyed by this Satanic plot, but from the day that I was released, I would fight, struggle, suffer and graft to resurrect our movement from the ruin it was in.
On July 10th, I got to work.
That was just over 4 months ago and since then, our movement has been rebuilt, reenergised, revitalised and relaunched!
I have organised activities across the nation, in Huddersfield, Londonderry, Bradford, Bangor, Sunderland, Lisburn, Worcester, Durham, Halifax, Hertford, Dorset, Portrush, Belfast, Newtownards, Portadown, Carrickfergus, Newcastle, Ballymena, Manchester, Elland, Widnes, Nuneaton, Batley, Didsbury, Lurgan and many others.
No other group, organisation, party or individual is anywhere near as active as Britain First.
Membership has increased by one-third since July, over 1,000 activists have volunteered, a dozen new branches have been set up and finances have been stabilised.
Protests, days of action, leafleting sessions, meetings and campaigns have been held across the country.
Facebook has been dragged into court using political anti-discrimination laws in Northern Ireland.
All of this has been achieved in just over four months, and the establishment is livid!
They are furious and demoralised that Britain First has not only survived their plot, but bounced back with maximum force!
But now, the establishment is – once again – on the offensive against Britain First.
Since July, the state has tried to arrest me no less than four times!
The Probation Service is trying to 'Breach' me and Jayda and send us both back to prison.
We both have multiple sets of politically-motivated bail conditions and restrictions in place to limit our freedom.
But worst of all, on 14-15th January 2019, Jayda and I will stand trial in Belfast for the terrible crime of criticising Islam.
This is now only 7 weeks away!
This relates to an anti-terrorism rally last August where Jayda and I were guest speakers.
Both Jayda and I said nothing wrong, except issue strong condemnations of extremist Islam and terrorism
The police in Northern Ireland (the PSNI) are ultra-PC and a few years back they unsuccessfully prosecuted a popular elderly Christian preacher – Pastor McConnell – because he criticised Islam in his church.
Remember, under Sharia Law all criticism of Islam is banned – the establishment is trying to introduce these Islamic blasphemy laws into our country.
Even though both Jayda and I have only recently been released from prison, they want to send us back – can you believe that?
The good news is that once this trial is out of the way, we face no other charges, trials or restrictions, so we need to go to court and defeat this nonsense!
Once this trial is over, if we are acquitted and walk free, we can power ahead with relentless activities and election campaigns in 2019 without anything hanging over our heads!
As stated above, only Britain First is active on the streets – no other organisation or party is 'pounding the beat' except Britain First, and the government knows it, hence these coordinated attacks.
This upcoming trial is the final establishment assault on our movement – if we beat this rap, we are home free!
If we are found guilty and sent back to prison, this will be disastrous for our movement and ruin all the hard work, graft and effort that hundreds of activists have put in to relaunch Britain First.
The consequences will be catastrophic – our movement will be hurled back to the Dark Ages once again.
So, today I am launching our official trial fighting fund and am appealing to everyone who wants to see the British resistance survive and persevere to chip in and get behind me and Jayda.
Every penny counts, so please send in whatever you can afford.
This email has been sent out to 150,000 patriots - imagine if every single one of you donated just £10?
That would raise £1.5 million pounds - all we need now is just £15,000!
Jayda and I need your help - will you give us a helping hand?
Please make your decision right now and bear in mind what both Jayda and I are going through right now by staring prison in the face once again:
Do you like this post?